An excerpt from my article published at SeekingAlpha.com.
Last month, I wrote a piece on coronavirus and China. This month it's clear COVID-19 has become a global concern. While people all over the world are still grappling with the viral pandemic, markets are overcome by a fear pandemic and already in correction territory.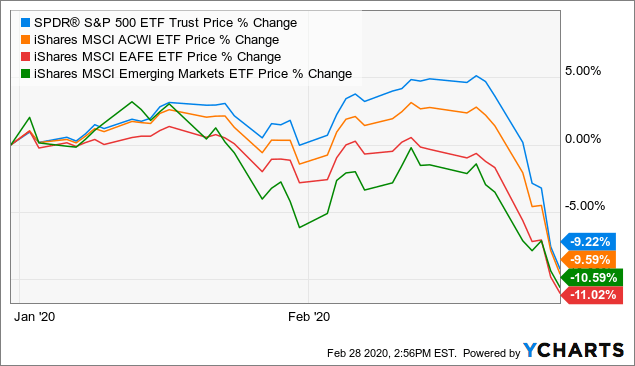 Markets are in a fluid and fearful state. In times like this, it's useful to step back and take a level-headed look at the big picture before making a move.
Two sides to the outbreak
There are at least two sides to this outbreak. The first and most important is the impact on public health, and CV is clearly a serious health concern. As of this writing, global cases are over 84,000 and deaths are near 3,000. For what it's worth, both the growth rates in cases and deaths seem to be slowing (shown below).
I'm no virologist or healthcare professional by any means and I'm not making light of the situation or dismissing anyone affected. I'm just looking at the cold, hard numbers, numbers that make me think CV may be less bad than many fear, relatively speaking.
Consider that CV is a new virus we know very little about. What we do know is it's highly contagious, we have limited ways to fight it, and it's already killed about 3,000 people. All bad, but we don't exist in a vacuum so we should ask bad relative to what?
Read the full article at SeekingAlpha.com.
—
Victor K. Lai, CFA