MACRO OVERVIEW
"Unprecedented" is the word of choice among investors trying to make sense of the market's wild swings this year. After one of the fastest bear markets ever in Q1, global equities surprised with an equally furious comeback in Q2.
But the rally has been at odds with deteriorating fundamentals, clear in the divergence of stock prices and forward earnings for the S&P 500.
Figure 1: S&P 500 vs Forward EPS
Although stocks are pricing in a "v-shaped recovery," that's far from a sure thing. Some data like payrolls and retail sales bounced in May, but others like GDP and earnings are coming in worse than expected. Meanwhile, economic projections are not encouraging. For example, the International Monetary Fund (IMF) expects the worse economic contraction since the Great Depression.
Figure 2: IMF Projections
The point is recent equity market conditions are not supported by broader economic conditions. Until that changes, gains may be ephemeral as the market lacks the fundamental support to be sustainable. To be sure, nobody really knows what will happen next, certainly not me.
Our intent is not to predict what comes next, rather to simply watch the data and make adjustments as it changes. At present, they continue to tell us prudence is warranted which is why the Macro Value strategy (MV) has maintained underweight risk exposure in 2020.
SEEKING VALUE
Black Gold
Of course, we are still selectively taking risks where we find reasonable value. One example this year has been our position in crude oil. From March to April, oil prices (as measured by WTI Light Sweet Crude) imploded, quite literally, as oil prices briefly went negative (truly unprecedented)!
Figure 3: WTI Prices
The reasons behind the collapse were long-simmering. In short, since 2009 rising energy production in the US increased global oil supply. Early this year, as the pandemic and global lockdown were evaporating oil demand, Saudi Arabia and Russia got into a war of words that ended in a production spat inundating an already flooded market.
The supply glut got so out of whack the US oil industry feared it would run out of oil storage capacity. The result was no one wanted to take delivery of WTI for fear of not being able to store it. Prices ultimately went negative as producers had to pay buyers to haul away the unwanted oil. This was a very good example of the type of "unreasonably undervalued" situations we seek in MV.
Ignoring that negative oil prices were utter nonsense, even crude oil at twenty-something-dollars a barrel already looked unreasonable. While it was true "anything was possible" during those wild weeks in April, it only required a modest step back to see the bigger picture of reason.
First, we call it "black gold" because oil is a universally valuable and finite natural resource. But unlike yellow gold, oil is found in thousands of essential products we use every day. According to the US Department of Energy, that includes roads, mobile phones, contact lenses, detergent, and ironically even the electricity we use to charge our "clean energy" cars. That long-term reality was not changing regardless of what happened in April or May.
Second, it's wishful thinking to believe oil prices are determined in a truly "free market" system. Yes, long-term prices are ultimately driven by supply and demand and short-term price moves can be driven by speculation. But it's not a free market because OPEC is effectively an international cartel that colludes to manage global oil supply (and indirectly price) for the benefit of its members.
Regardless of our opinions on OPEC, it's clear lower crude prices are bad for all net-sellers of oil, be they Saudi, Russian, or American. Like it or not, the most likely path was the one of least pain and resistance where the powers that be would collude (or "cooperate") to manage supply and support price. Sure enough, that happened as the US stepped in to deescalate Saudi-Russian tensions, and global production curbs ensued.
As I wrote in April, the problem is, even if it's obvious oil prices will rebound, nobody wants to try and catch a falling knife (or 55-gallon oil drum for that matter). Trying to time a bottom is hard and being late to a rally is easier to swallow than being early to a sell-off.
I had no idea if oil had bottomed (it did not), I was not trying to call one, and I still don't know if a new low lurks ahead. There are still many lingering risks that could hurt oil prices – recession/global demand slump, the oil price war could rekindle, and military conflict could flare, just to name a few.
Meanwhile, trying to gauge the upside is as hard as trying to time the bottom. Forced to estimate, I thought it was reasonable for crude to recover $40 to $50 a barrel and eventually overshoot that level when we're back on the path of normalcy (thinking in months and years).
That expectation was based simply on A) the global average break-even price for oil production (based on Brent) and B) the assumption that global oil producers will inevitably collude for profit.
Figure 4: Brent Breakeven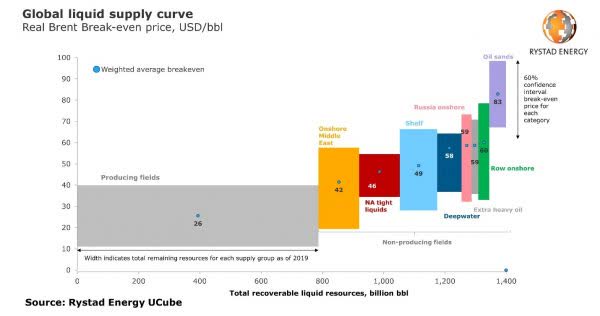 Figure 5: Brent vs. WTI Prices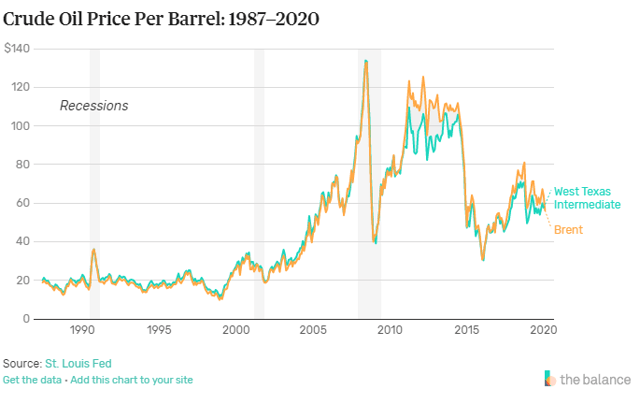 Our current position in crude oil is with OILK – ProShares Crude Oil Strategy ETF. Selecting the vehicle for exposure was a challenge itself because it's totally impractical for most investors to buy the physical commodity and to gain exposure to "spot oil" prices (which are the prices we see quoted in the news).
The best we can do is find imperfect proxies like oil stocks or oil futures. Each come with their own idiosyncratic risks and difficulties (to wit, the largest oil-futures based ETF, USO, nearly imploded, I've written about issues with commodity-ETPs in the past). Suffice to say OILK was the most acceptable (albeit flawed) choice we uncovered. The position has worked in our favor to date and we plan to continue to holding OILK until our outlook changes.
A Note on US Equities
Within the MV portfolio we're holding a range of positions including commodities like oil and precious metals, fixed income securities, and some emerging market equities. One thing that is notably missing is an explicit position in US stocks (though we have some indirect exposure via our position in ACWI – iShares MSCI All Cap World Index ETF).
The absence is nothing to brag about given the recent run up in US stocks, especially in the tech-heavy NASDAQ. However, it is for good reason. MV is ultimately a "value" strategy, and our objective is to seek out "undervalued" markets.
We cannot in good conscience claim US stocks are undervalued. The chart below shows the Cyclically Adjusted Price to Earnings Ratio (grey bars, left axis) versus real S&P 500 prices (blue line, right axis, log scale) from Jan 1928 to Jan 2020.
Figure 6: CAPE vs S&P 500
Notice the CAPE consistently measured over 20x near major market peaks (in red, "expensive"). Likewise, it consistently measured 15x or lower near major bottoms (in green, "cheap"). The one low- CAPE exception was 2003, but that was also preceded by an extreme high in 2000.
As of January 2020, the CAPE reached it's the second-highest point of the past century. Despite all the back and forth in Q1 and Q2, the CAPE is still at 29.07x as of June 30. To be clear, valuation is a terrible tool for market-timing or predicting turning points, and I am not trying to call or pinpoint a top.
However, valuation is very useful for understanding whether prices are relatively cheap or expensive versus history. As of now US stock prices simply do not look cheap. That will change eventually (when I do not know) and MV will add US equity exposure when it does.
THE BOTTOM LINE
Although market conditions have fluctuated in the first half of 2020, negative economic conditions have kept MV underweight risk exposure. As painful as the underweight has been during the Q2 rally, it has worked in our favor overall because global stocks are still negative year-to-date.
Meanwhile, MV continues to selectively take risk in markets where valuation and potential returns look favorable. For now, that includes commodities like oil and precious metals, select emerging equity market equities, and pockets of fixed income, but does not include an explicit position in US equities.
We recognize conditions are changing and we will change our exposures accordingly. However, we won't try to predict when and will instead make the changes when the data warrant.
—
Victor K. Lai, CFA